Description
POWER PRO VACUUM CUP
The supreme quality
POWER PRO VACUUM CUP has a

durable handle that provides an easy grip. Moreover, it attaches easily to a variety of surfaces. What's more, the red-line indicator warns the user of any vacuum loss. This is a great feature for protecting your tile as well as guarding your safety! Equally important, the check valve feature allows re-pumping without the loss of any remaining vacuum suction. This unit measures 8" in diameter and has a 125 Lb lifting capacity for heavy-duty use! They come packaged in a heavy-duty polyethylene carrying case.

RTC Products prides itself on offering the highest quality tools used in Tile and Stone installation. Moreover, every product they offer goes through vigorous testing before it is endorsed with the "Shield of Approval". Feel free to browse our site for all Russo products. However, If you have any questions you can email us using our question feature on this site or you can call us at 1-866-601-8105. Alternatively, you may not need a box of 4. If that's the case, give us a call and we can accommodate you with a smaller order.
VACUUM CUP SPECS
8" Diameter

Hand pump activated

Lifting Capacity: 125 lbs.

Protective carrying case

See all of tile & masonry items here
See the manufacturer listing here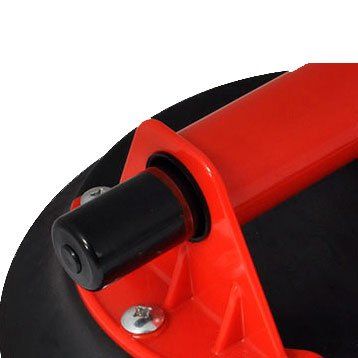 Redline indicator for vacuum pressure