Description
HIGH ROLLER GROUT BUCKET KIT
This awesome HIGH ROLLER GROUT BUCKET KIT will cut your grout clean-up time by up to 50%!  What's more you will save hours of back-breaking work especially on larger tile jobs. Equally important, our sponges are not flimsy ones either. They last up to 5,000 square feet. Lastly, these high rollers are perfect for doing big tile jobs. RTC makes another kit called the "Rocking Roller" but this one is much better. So much so, that we won't even list the other.
The Kit Includes the
Bucket with the Handle, the
Sponge Float with the Handle, a
Removable Grid as well as the Dual Roller Rack. These are no joke. Its special hole pattern is d
esigned for maximum extraction. It has a capacity of 6 gallons or 24 liters. This bucket will keep your hands dry. Its' flat sponge with the small squares removes just enough grout and doesn't pull it from the lines. Furthermore, you will love working with the form fitted cushion grip handle.
Includes:
Bucket w/ Handle

Sponge Float w/ Handle

Removable Grid • Dual Roller Rack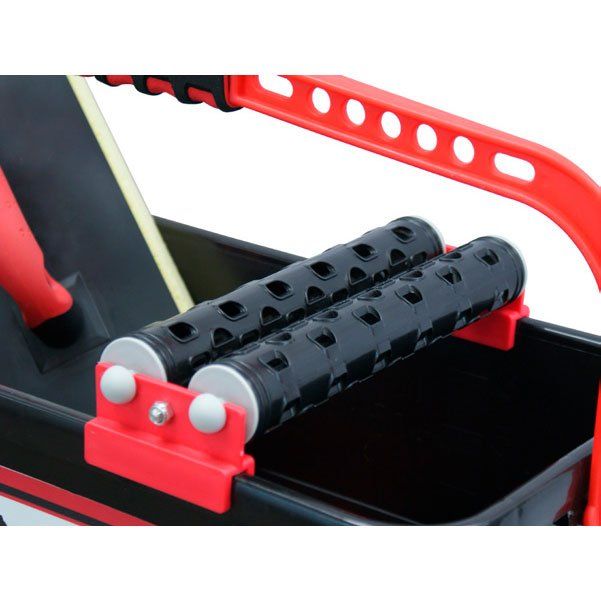 PROFESSIONAL TOOLS FOR THE TILE AND STONE INDUSTRY
RTC Products prides itself on offering the highest quality tools used in Tile and Stone installation. Moreover, every product they offer goes through vigorous testing before it is endorsed with the "Shield of Approval". Feel free to browse our site for all Russo products. However, If you have any questions you can email us using our question feature on this site or you can call us at 1-866-601-8105.